Espresso Martini with Baileys is a delicious cocktail for coffee drinkers around! These days, it's garnished with crunchy and creamy coffee beans. An exquisite, deliciously sweet treat that will keep the celebration going.
There's nothing better than a well-made espresso after a nice dinner. This espresso-based cocktail is an excellent pick for any occasion. It offers you a little lift while you sip on your favorite sugary concoction.
What's an espresso martini, anyway?
Traditionally, espresso martinis are created with espresso (or robust coffee), Vodka, and Kahlua. To prepare an espresso martini with Baileys, we use Baileys instead of Kahlua.
The cherry on top is a gritty coffee bean rim. We're all obsessed with our morning cup of joe in this blog, so mixing it with one of our cocktails is the next best thing! Are you onboard? There is more to this delectable combination.
Prep Time: 5 minutes | Cook Time: 0 minutes | Total Time: 5 minutes | Yield: 1 drink 1x
The Perfect Espresso Martini with Baileys Recipe
To make an Espresso Martini, you'll need Kahlua, Vodka, and espresso. There is an extra layer of creaminess in this Espresso Martini made with Baileys instead of Kahlua.
Ingredients
2 oz Baileys Espresso Creme Liqueur (about 1/4 cup).
0.25 oz of Vodka (about 1/5 teaspoons)
A shot of espresso
1 Tablespoon of sugar (just for the rim).
1 tablespoon of coarsely ground coffee beans
And no, an Espresso Martini contains neither Martini, Gin or Vermouth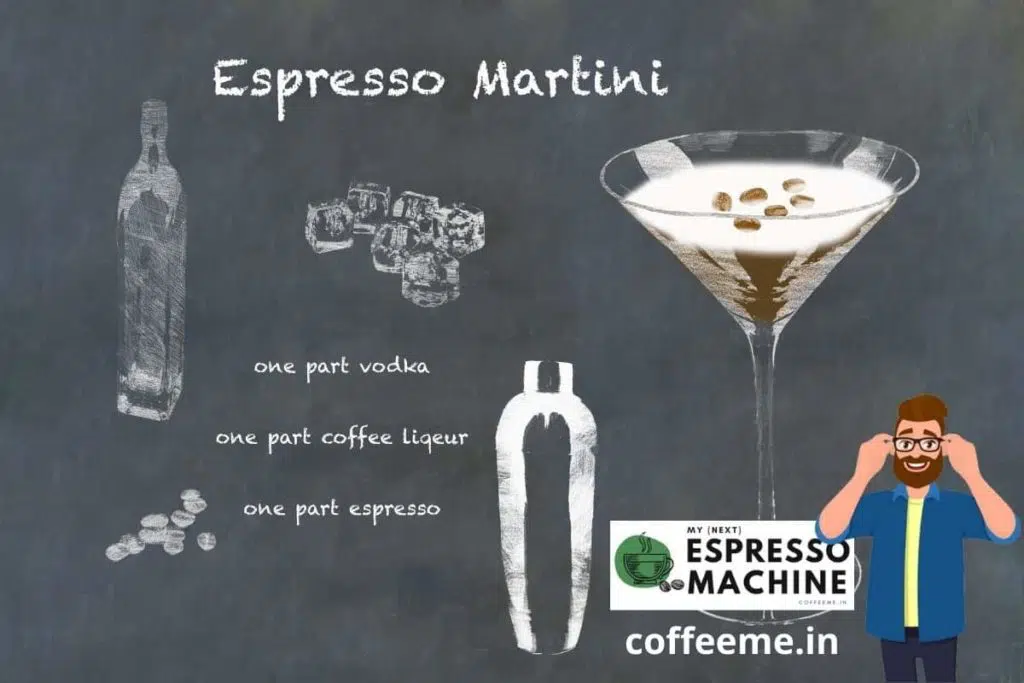 Instructions
Prepping the glass with coffee beans:
Coffee-bean rims have been added to make this Baileys Espresso Martini more interesting. Adding a bit of crunch to the beginning of each sip gives it a beautiful sweet coffee aroma. To make a coffee bean rim, follow these steps:
Make a fine powder of coffee beans by grinding them in a coffee grinder. Only a few beans are required.
Mix the ground beans with an equal amount of sugar.
Wet the outside rim of the glass with either water or espresso.
Dip the edge of the glass and gently turn it around. The outer rim should now be covered with sugar and coffee beans. Try to leave the inner part of the glass clean.
Shaking everything
After making the coffee bean rim, there isn't much to an Espresso Martini. You can make the combination in no more than a cocktail shaker. Notes on the process are as follows:
Use an espresso machine to create a shot of espresso. If you don't have one, make a cup of coffee using other brewing methods (a Moka pot, French press, etc.) – I won't tell anyone.
In a cocktail shaker, mix all the ingredients thoroughly with some ice. Shake it until everything is well-combined.
Garnish with a lemon twist or a couple of coffee beans. Pour into a stemmed pre-chilled cocktail glass or a martini glass.
That's all there is to it! The Baileys adds vanilla and chocolate overtones that enhance the coffee's bitterness, resulting in a rich, creamy drink.
When is the best time for an espresso martini?
The Baileys Espresso Martini is a terrific option if you're looking for an after-dinner or a late-night drink. Oh well, you can have it in the afternoon as well – it's 5 o'clock somewhere…
What makes the Baylys Espresso Martini the best?
It makes the ultimate dessert cocktail with only a few ingredients.
The classic espresso martini has been reimagined as a creamier variant in this creamy espresso martini.
You can serve it with dessert or on its own as a decadent treat.
Espresso Martini – Final thoughts
We hope you enjoyed our blog on how to make an espresso martini with Baileys. It's a great cocktail for coffee drinkers, and a delicious treat to keep the celebration going. If you want more great recipes, check out the Easy Recipes With Coffee section on our blog, we have a great collection of recipes and drink recipes.