Espresso tonic is a cocktail that combines the concentrated flavor of espresso coffee with the astringency of tonic water to create a soothing and flavorful drink. Drinking it leaves a refreshing aftertaste because it contains a perfectly-balanced strength of the two ingredients. Since every coffee lover wants to have a sip of this drink, we decided to tackle the espresso tonic recipe for today.
Pre.Time: 1 min | Cooking Time: 5 min. | Total Time: 6 min. | Yield: 1 drink
Ingredients:
One shot of espresso
4 oz of chilled tonic water
Dash of orange bitters
1 piece of pith-removed orange peel
Preparation:
A shot of espresso – Most preferably should be made medium-light. It should not be too strong but, at the same time, not too weak. It will depend on the brewing measurement. If you don't have an espresso machine – a Moka pot or your favorite coffee brewing method will do.
4 ounces of chilled tonic water – You can find tonic water anywhere. It contains a lightly sweetened flavor with carbonated quinine water. So, upon getting tonic water, measure it by precisely 4 ounces, then chill it.
Dash of orange bitters – I know this is not something everybody has at home, but try getting it if you can. This cocktail flavoring is naturally made from cardamom, coriander, anise, caraway seed, burnt sugar, and real oranges. A dash of it will be enough to upgrade your drink.
One piece of pith-removed orange peel – Get an orange and carefully peel it. Afterward, remove the pith (the white stuff) from the peel for the Espresso Tonic recipe. We remove the pith as it can give a bitter aftertaste to your drink.
Instructions for Espresso Tonic Recipe
Step 1: Fill your glass with ice and pour the chilled tonic water and a dash of orange bitters and orange peel.
Step 2: Hold a spoon over the ice, and pour in the espresso through the backside of the spoon. Your cocktail will look amazing this way, with a cloud of coffee above the ice and tonic water.
Serve as soon as possible.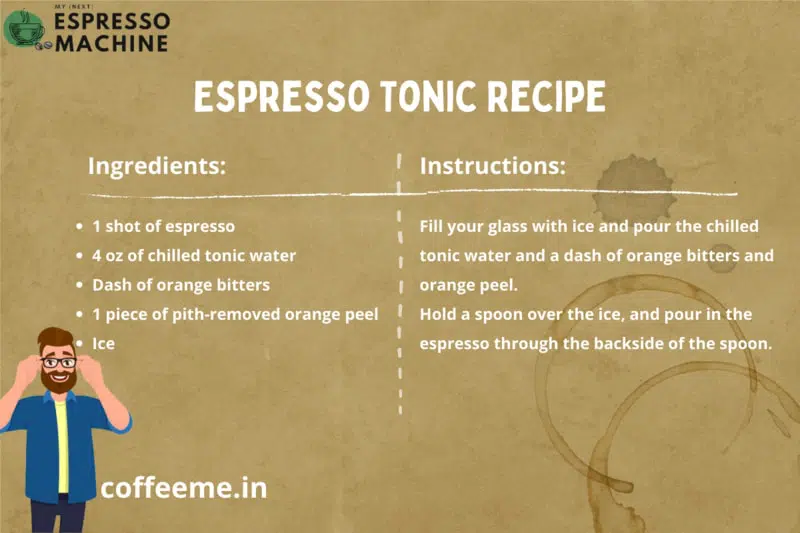 Nutrition Facts (Per Serving):
Calories 45 | Carbs 9.2g | Fat 0g | Protein 0g | Sodium 12 mg | Sugar 9.2 g
Espresso Tonic – Pro Tips
The directions for this espresso tonic recipe do not have to be followed to the letter right away. In fact, you can customize it to your liking by including flavors that you believe will pique your interest further. For example, you could use a cold brew coffee instead of espresso. An increase in dopamine and energy can be obtained from this substance.
Replace the Tonic water with sparkling water to get the diet version of this cocktail. If you're using sparkling water, you might want to add a few drops of lime.
Something to keep in mind when making espresso tonic or any other cocktail is that the ingredients are what will make or break the drink. You can use different tonic water and increase the bittersweet components and the number of orange dashes in your glass. After all, it is your personal preference that is important.
Espresso Tonic – Final Thoughts
Having an espresso machine at home is a plus for your morning coffee and coffee-based food and drinks you can make for yourself or when having guests.
I hope this Espresso Tonic recipe will help you enjoy the espresso tonic at home, and not only when going out during hot summer nights.
Espresso tonic is an excellent drink for anyone who wants a cocktail with a bold flavor that isn't overwhelming. The combination of the robust espresso flavor and the astringent, bitter tonic water create a drink that is full of flavor and soothing at the same time.
Check out our recipes section to see some more easy-to-make food and drinks with espresso.