Drinking espresso is an obsession for coffee lovers – and it is truly understandable. However, how can you enjoy your daily dose of espresso when it's too hot outside? Say no more because ice shaken espresso is the solution for that problem.
It's officially spring, and while we love our coffee hot, we also love it cold. And when we say cold, we mean iced. This Iced Shaken Espresso recipe will let you enjoy your daily dose of caffeine in the form of an iced beverage that is sure to cool you down on a hot summer day.
Prep Time: 1 min | Cook Time: 4 mins | Total Time: 5 mins | Yield: 16 fl oz/ 2 cups
Iced Shaken Espresso – Ingredients:
A single or double espresso shot – Choose your favorite dark roast coffee beans.
Simple Syrup – If you don't have any, I'll show you how to make syrup at home.
Whole Milk – While cafes like Starbucks prefer 2% of milk for the iced shaken espresso recipe, you can choose other types of milk. My personal favorite is whole milk because it is the most balanced.
Ice  – Get lots of ice cubes according to the size of your glass.
Nutrition facts
Calories 100 | Carbs 17g | Fat 2g | Protein 4g | Sugar 14g
Instructions:
Step 1: Now that you have all the ingredients for the Iced Shaken Espresso Recipe, put the espresso shots, simple syrup, and ice in a tight lid to shake. Ideally, cocktail-shakers should be used to shake them all together, so if you have one – that's a bonus!
Step 2: When you're satisfied with all the shaking, you can pour the mixture into your glass/cup. As stated in the yield, this drink should be able to make 16 ounces which is equivalent to two cups.
Step 3: Add whole milk or other desired milk on top. Then finish it off by adding more ice as you want it.
Pro-Tips to Enjoy your Iced Shaken Espresso
Add your signature taste – Customize your iced shaken espresso by giving it your signature taste. Use soy milk or oat milk to substitute whole milk. Then, see how magically it would turn out. Also, instead of using the standard syrup, why not try vanilla syrup instead?
Make your syrup the proper way – Simple syrup is straightforward and fast to make at home. In a hot pan, combine your cup of sugar and water altogether until it dissolves completely. See if the consistency meets your preference. Cook it on low heat until the sweetener dissolves and let it cool naturally. After that, get your dry airtight container and store it in the refrigerator. The syrup should be good for a month.
Use quality coffee/beans for your espresso – To make an excellent espresso shot, you should brew your desired coffee or coffee beans. But to maximize the enjoyment in your iced shaken espresso, making sure that the beans are of high quality is a must. Use your favorite coffee for this drink as you would in hot coffee. If you don't own an espresso machine, you can also use your Moka pot, french press, or pour-over coffee maker. I won't tell anyone!
Use coffee or milk ice cubes – Making ice cubes for your iced shaken espresso doesn't need to be of the basic, transparent type. Why not upgrade the drink by freezing coffee and milk into cubes and using it as alternative ice cubes?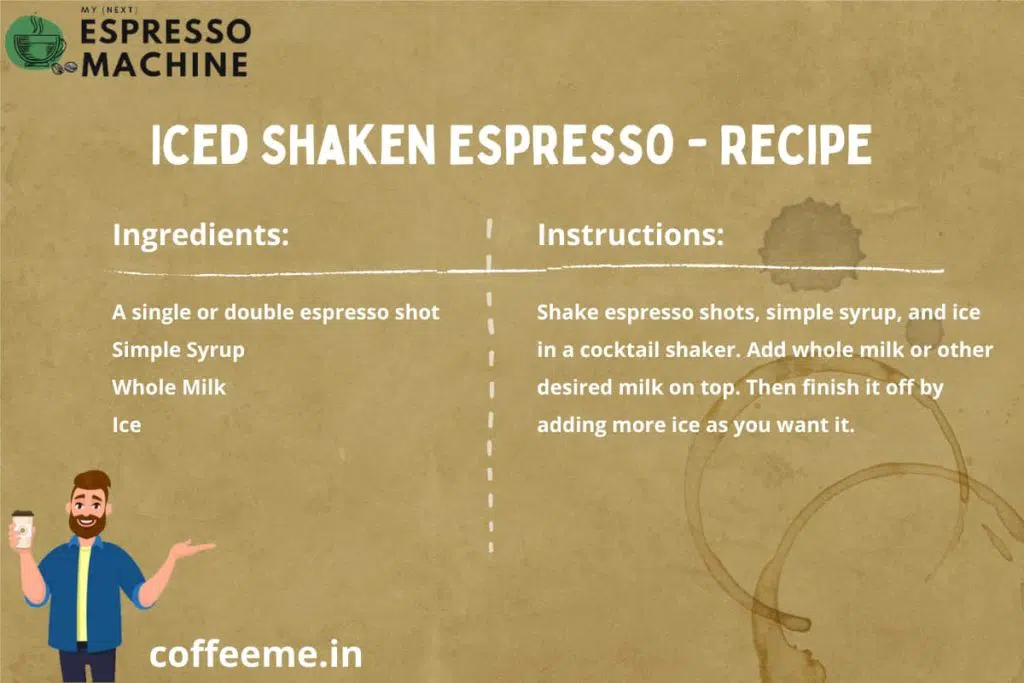 Iced Shaken Espresso – Final Thoughts
We are happy to be able to share this iced shaken espresso recipe with you. As the weather is starting to warm up, we thought we would share a drink that you can easily enjoy even in the hot summer sun. We hope you enjoy this recipe and if you are looking for more to sip on during the warmer months, be sure to visit our Easy Recipes with Coffee section.