If you're looking for a new espresso machine for your office, look no further. This article will guide you through the process of finding the best espresso machine for your office needs.
Espresso Machines covered in this article:
Why do you need an espresso machine for your office?
Office coffee can get old and boring. Fortunately, there are dozens of espresso machines available to suit your needs. Due to the savings on coffee purchases, some of these espresso machines will pay for themselves less than a year.
Espresso machines are great because they're convenient and quick, perfect for an office setting. You and your team can have a fresh espresso every time you need one with just the push of a button.
Selecting the perfect espresso machine for your business needs can positively affect yourself, your team, and your clients. It can also improve productivity, well-being, and the overall atmosphere at the office.
Before getting an espresso machine for your office, it's essential to determine what your office needs in an espresso machine to find which models meet those requirements.
How to Choose the Best Espresso Machine for Your Business Needs?
There are a few basic things to consider before buying an espresso machine for your business:
Price: Espresso machines range from $100 to $1,500, so there's something for every budget.
Size: You'll want to measure your space before making a purchase
Durability: Look for stainless steel parts and high-quality materials
Other than that, here are a few things to take into consideration.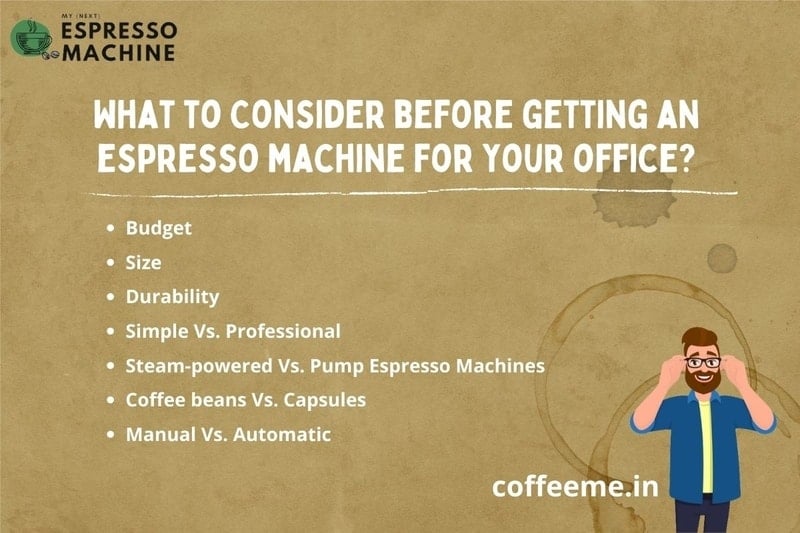 Small espresso machine or a professional one?
The first thing to consider is the number of employees or customers who will use the machine.
For instance, opening a coffee shop or cafe will need the highest quality professional espresso machines. It is also required to use espresso machines to accommodate two or more shots for a faster brewing process.
On the other hand, a small machine will do if you plan to get an espresso machine for your home office.
Steam-powered machines Vs. Pump Espresso machines.
If you want an affordable and straightforward espresso machine, then a steam-powered one would be good, especially for a home office or a small business.
However, a steam-powered espresso machine is less likely to have a real Espresso taste, and there's a wait time between shots.
A pump espresso machine will get you the optimal pressure for an authentic espresso flavor. It is much more suitable if the machine is used intensively.
Coffee beans Vs. Capsules
If you or your team are for convenience and are always in a rush, then a capsule espresso machine is for you. A capsule machine can make a coffee by simply popping an espresso capsule into the machine.
On the other hand, an espresso machine with an integrated grinder makes exquisite freshly ground Espresso. It will surely impress your team and customers.
Manual Vs. Automatic Espresso machine for your office
Semi-Automatic: Semi-automatic espresso machines require the user to grind the coffee beans, fill the filter basket with coffee, tamp it down, and push a button that starts the brewing process. You will need to devote some time and energy to master the process of a semi-automatic espresso machine. Using a semi-automatic machine may be a little untidy. Still, the Espresso that you can produce will be worth it.
Super Automatic: A Super-automatic espresso machine is a coffee maker that operates automatically. A super-automatic espresso machine grinds the coffee beans, tampers them, extracts the coffee, and dispenses it into cups. These machines are easy to use and are prevalent in homes and offices. Anyone at the office can use them to make Espresso, even without any experience.
Manual: If you opt for a unique espresso maker, a manual espresso machine will best suit you. A manual machine is only for the hands-on coffee specialists who have the talent, skills, and effort to refine their coffee. So don't get a manual espresso machine for your office if you want anyone to be able to use it.
The 4 Best Espresso Machines for Office
Working remotely from home can be tiring because you are doing your work from your comfort place. Thus, this remedy is rewarding yourself with a good cup of coffee (instant coffee is not applicable!)
De'Longhi Dinamica Automatic Espresso Machine
The De'Longhi Dinamica Automatic Coffee and Espresso Machine has all the features you need to make delicious espresso, cappuccinos, lattes, and more. It is easy to use and has a sleek design that will look great in any office.
Programmable Features
Continuous types of shots
It has a drip-coffee style of Espresso
It consists of 13 levels in the grinder settings
Energy saving
Buttons have no labels

Latte art microfoam is not achievable
| De'Longhi Dinamica Automatic Espresso Machine – Product information | |
| --- | --- |
| | |
| | 60.9 fl oz water container |
| | |
| | |
| | |
Review
The De'Longhi Dinamica Automatic Espresso Machine is a mid-affordable espresso machine model. Its design was luxurious and portable at the same time. It also has a 20 percent larger hopper capacity than other espresso machines. The Dynamic's minimal look hides its high quality and reliability, making it an excellent bargain.
It also has a lot of unique specifications. For example, a 15-bar high-performance compressor can warm up in 40 seconds, a touch sensitivity feature to customize your coffee, an adjustable stainless steel burr grinder, and an adjustable frother.
The De'Longhi Dinamica Automatic Coffee Machine is made to brew your fresh and authentic type of coffee. Plus, it is easy to clean with its detachable brew unit and dishwasher tray built into the machine. You can also enjoy a 2 to 3 years warranty on your coffee machine if any problem occurs.
De'Longhi Dinamica Automatic Espresso Machine is available on Amazon US for only $949.95.
If you love De'Longhi Espresso machines, check out our review on Delonghi Dinamica Plus.
TheBest Espresso Machines for Office – Conclusion
I hope that I have helped you choose the best espresso machines for your office.
Coffee completes anyone's day. It gives us energy and keeps us awake to do our work and other stuff. Thus, investing in a high-quality espresso machine is essential.
When choosing a suitable espresso machine for your business, you should first consider size, budget, and durability. Other than that, you need to make decisions according to your office's needs and preferences.